Hotels and other Accommodation
World Nomads
The Travel Insurance with the largest coverage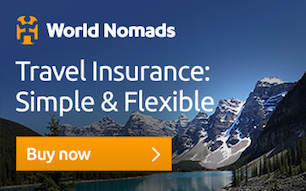 ---
Security
The safety conditions are satisfactory. Although crime levels are low, attention should be paid to public transport and areas where large crowds are present or crowded, as theft, tugging, handbags or luggage are very common. Special care is recommended at major train stations, as well as public transport and the most popular tourist sites, including bus stops, restaurants, cafes and terraces.

Emergency Phone Numbers
- Emergencies: 113; - Fire brigade: 115;
- National Guard / Carabinieri (general number): 112.
---
Weather
Summer is warm and almost cloudless in sky; Winter is very cold and partly cloudy. Throughout the year, the temperature generally ranges from -0 ° C to 31 ° C and is rarely below -4 ° C or above 35 ° C.
The best time of year to visit Bologna and warm weather activities is from late June to late August.
---
Main tourist points
1 Piazza Maggiore in Bologna - surrounded by a totally medieval heritage, the square reserves a very important cultural and artistic history for Bologna.
2 Palazzo Dell'Archiginnasio in Bologna
3 Asinelli Tower in Bologna - you can visit the tallest Asinelli tower and climb its 498 steps to reach the terrace for a wonderful panoramic view of the entire city and surrounding area.
4 Sanctuary of the Madonna of San Luca in Bologna
5 Stroll through the alleys of Bologna - it is a very historic city with very medieval features, so it is not difficult to fall in love with it and to be enchanted with every place you pass during your tour of Bologna.

Some sights, cool towns and wineries are a bit out of the way, and a great option to make the most of your trip around Italy is to rent a car.
---
Gastronomy
Few cities in the world have a heritage of gastronomic tradition like Bologna. The typical foods of Bologna in Italy are delicious! Food is a way of life. Many popular ingredients and recipes from Italy are original from Emilia-Romagna. In Bologna's countless osterias, sample the best of local cuisine: tagliatelle with high ragu Bolognese (bolognese sauce), Parma ham, tortellini, parmigiano reggiano cheese, truffles and more.
---
Presentation
The city of Bologna is in northern Italy, in the Emilia-Roman region, between the Rhine and the Savena. The city has many monuments, attractions, bridges, squares, basilicas and many other amazing places that guarantee a lot of fun and breathtaking photos. Beautiful medieval city, cultured and with an enviable gastronomy. It's worth visiting.
---
Other tourist destinations in:

Italy
---
Other world tourist destinations
---
City destinations and weekend getaways
---
Why to book with BOOK HOTEL ALGARVE
The best prices
Our partnerships with the world´s largest operators offer research on the best market prices.
More options
At Rotas Turisticos you can book the hotel, buy the air ticket, book the transfer from the airport to the hotel and vice versa, book the local excursions, rent the car, take travel insurance and consult the places to visit and where to go.
Holiday Tips & Destinations
Hundreds of holiday destinations with all the options that allow you to easily choose the destination that best suits your dream vacation.
---
---