Hotels and other Accommodation
World Nomads
The Travel Insurance with the largest coverage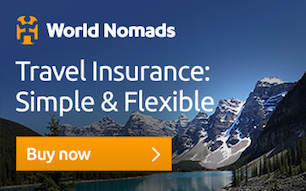 ---
Warsaw
Warsaw is the capital and largest city of Poland. It is located on the banks of the Vistula River, about 260 km from the Baltic Sea coast and 300 km from the Carpathian Mountains. It is home to numerous industries (consumer goods, steel, electrical engineering, automobiles), higher education institutions (University of Warsaw, Warsaw University of Technology, School of Management, Medical Academy, etc.), a philharmonic orchestra, And the Opera House.
---
Tourism
For many people, the name Warsaw brings a little gray memories, from the dark periods of Nazi rule and Soviet occupation. Although a new city opens up to tourists, there is no getting around the marks of history.

The city, like a phoenix, was able to grow even more beautiful and colorful than in the 17th century. Palaces, museums and cafes appear in every corner, as if it welcomes capitalism. Bars and restaurants scatter their little tables by the sidewalks, and the shops boast remone brand clothes in shop windows without any embarrassment. The transportation system are also an example of efficiency, powered by bus and subway lines. Definitely, the new times have come to the brave Polish capital and promise to stay there for a long time.

Despite the sinister tower of the Palace of Culture and Science - a dubious gift of Josef Stalin - dominate the modern part of the city, it is worth visiting the Old Center. Masterfully rebuilt just as before the war, it is classified as a World Heritage Site. Other highlights of the city are the also reclaimed Royal Castle, the exciting Levant Museum of Warsaw and the pleasant gardens, great for mind-blowing.
---
Gastronomy
Polish cuisine is a mixture of Slavic and foreign culinary traditions. Arising from the mix of various culinary customs of various regions of Poland and surrounding cultures, it uses a wide variety of ingredients. It is rich in meat of all types and spices, as well as different types of pasta and dumplings, the most popular being pierogi (cooked pasta, stuffed with curd and potato, accompanied by sausage sauce, cream and curd balls ). It resembles other Slavic cuisines in the use of potatoes (kasza) and other cereals, but also had a great influence of the Turkish, German, Hungarian, Jewish, Russian, French and colonial cuisines of the past. Overall, Poland's cuisine is rich, substantial and relatively high in fats. The Pole devotes a generous portion of his time to enjoy his meals.

A typical lunch is usually composed of at least three dishes, starting with a soup such as barszcz (beet) or żurek (a food made from fermented crushed rye), followed perhaps in a restaurant by an appetizer of salmon or herring (prepared with cream , oil or vinegar). Other popular appetizers are pâté made from various types of meats, vegetables or fish. The main course can be bigos (sauerkraut with chunks of meat and sausage) or schabowy (pork chops empanadas). It ends with a dessert, which can be an ice cream or, more likely a piece of (makowiec), homemade cake with poppy seeds, or even drożdżówka, a type of yeast cake. Other Polish specialties include chłodnik (a cold beet soup for hot days), golonka (pork joints cooked with vegetables), kołduny (meat dumplings), zrazy (rolled steaks), salceson and flaki . Many dishes contain quark type cheese.
---
Climate
The climate of Warsaw is humid continental, with relatively cold winters and mild summers. The average temperature is -3 ° C in January and 19.3 ° C in July. Temperatures can often reach 30 ° C in summer. The average annual rainfall is 548 millimeters, the wettest month is July. Spring and fall are usually beautiful seasons.
---
Other tourist destinations in:

Poland
---
Other world tourist destinations
---
City destinations and weekend getaways
---
Why to book with BOOK HOTEL ALGARVE
The best prices
Our partnerships with the world´s largest operators offer research on the best market prices.
More options
At Rotas Turisticos you can book the hotel, buy the air ticket, book the transfer from the airport to the hotel and vice versa, book the local excursions, rent the car, take travel insurance and consult the places to visit and where to go.
Holiday Tips & Destinations
Hundreds of holiday destinations with all the options that allow you to easily choose the destination that best suits your dream vacation.
---
---