Hotels and other Accommodation
World Nomads
The Travel Insurance with the largest coverage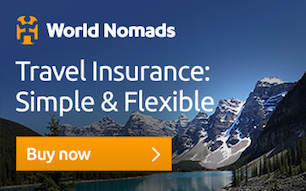 ---
Santorini
Santorini, whose capital is Thera (or Fira), is an island in the southern Aegean Sea, about 200km (120 miles) southeast of Greece on the mainland. It is the largest island of a small circular archipelago that bears the same name and is the rest of a volcanic caldera. The island forms the southernmost member of the Cyclades island group. The municipality of Santorini includes the inhabited islands of Santorini and Therasia and the uninhabited islands of Nea Kameni, Palaia Kameni, Aspronisi and Christiana.
---
Tourism
The capital of Santorini, Thera (or Fira) is the main tourist center and an authentic maze of white-painted streets filled with jewelery and craft shops.
The most beautiful city of Santorini is Oía, at the northern end of the island, with a magical setting, especially at sunset, when the colorful houses are bathed in an orange aura. The view is absolutely unforgettable.
Santorini Island is famous for dramatically beautiful views such as breathtaking sunsets from the town of Oia, the town of Thira and of course its own active volcano.
The naturally fantastic beaches, such as Perissa beach, perhaps the best beach in Santorini, Kamari's black pebble beach, white sand beach and red beach.
---
Gastronomy
Santorini's cuisine is based mainly on the island's own agricultural products. These products, nourished by volcanic soil, the bright sun and humidity of the Aegean Sea, have a very unique flavor. This results in high quality ingredients that are used to cook the delicious, healthy and delicious dishes that can be found in many taverns and restaurants.
Traditional dishes include fava beans, peas, tomatoes, eggplants, stuffed courgettes, cooked capers, fresh cheese, sausages, wild rabbit with an egg cheese and sauce, brantada and saffron bread toasts.
---
Weather
Santorini has a warm Mediterranean climate. In summer, hot and dry days are usually relieved by the breeze, especially in the northern and coastal areas. The nights are cold. Winters are relatively mild. From November to March is the rainy season.
---
Other tourist destinations in:

Greece
---
Other world tourist destinations
---
City destinations and weekend getaways
---
Why to book with BOOK HOTEL ALGARVE
The best prices
Our partnerships with the world´s largest operators offer research on the best market prices.
More options
At Rotas Turisticos you can book the hotel, buy the air ticket, book the transfer from the airport to the hotel and vice versa, book the local excursions, rent the car, take travel insurance and consult the places to visit and where to go.
Holiday Tips & Destinations
Hundreds of holiday destinations with all the options that allow you to easily choose the destination that best suits your dream vacation.
---
---