Pictures of: Easter Island
Hotels and other Accommodation
World Nomads
The Travel Insurance with the largest coverage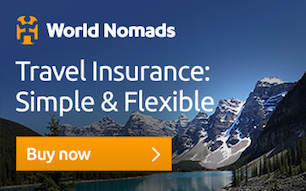 ---
How to get
Lan Chile is the only airline flying to Easter Island; The plane can be taken in Santiago de Chile or in Papeete, in Tahiti. There are four weekly flights.
---
Gastronomy
You will find restaurants with great local and French food, great seafood, good fish and good soups. Tuna ceviche and sweet and sour chicken are typical Polynesian dishes.
---
Tourist points
Fascinating and secluded in the world, Easter Island (Rapa Nui in its native language) is the last frontier of South America. It has essentially Polynesian roots and is full of sweeping landscapes. It is famous for its huge stone statues, the moais. These gigantic volcanic stone statues, 1 to 10 meters high and weighing up to 80 tons, span the entire perimeter of the island and are virtually the last legacy of a people whose writing and culture have all but disappeared.
Between the clear blue sea and the volcanic relief, you will find trails to explore by bike, horse, tour or even on foot. Hanga Roa, the island's only city, is home to the local airport, most hotels, restaurants and services, including operators organizing activities such as diving, snorkeling, excursions to neighboring islets and kayaking.
The best tours are those that pass through the Rano Kau and Rano Raraku volcanoes and the ceremonial village of Orongo.
Tourists can still enjoy some beautiful beaches, such as calm Anakena - which has its own set of moais - and a complex cave system.
In Hanga Roa artisan market, you can take a break from shopping and purchase the island's handcrafted products such as wood and stone carving and shell and coral necklaces.
---
Presentation
It is an island of eastern Polynesia, located in the southern Pacific Ocean and is situated 3 700 km from the west coast of Chile and constitutes the Chilean province of Easter Island. It is famous for its huge stone statues, the moais. It is a volcanic island, its territory has a triangular shape and is the most isolated piece of land in the world, on the edge of East Polynesia.
---
Other tourist destinations in:

Chile
---
Other world tourist destinations
---
City destinations and weekend getaways
---
Why to book with BOOK HOTEL ALGARVE
The best prices
Our partnerships with the world´s largest operators offer research on the best market prices.
More options
At Rotas Turisticos you can book the hotel, buy the air ticket, book the transfer from the airport to the hotel and vice versa, book the local excursions, rent the car, take travel insurance and consult the places to visit and where to go.
Holiday Tips & Destinations
Hundreds of holiday destinations with all the options that allow you to easily choose the destination that best suits your dream vacation.
---
---