Pictures of: Coyhaique, Chile
Hotels and other Accommodation
World Nomads
The Travel Insurance with the largest coverage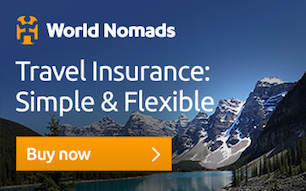 ---
Weather
Summer is mild; Winter is short, very cold and with precipitation. Throughout the year, the weather is almost cloudy. Throughout the year, the temperature generally ranges from -1 ° C to 18 ° C and is rarely below -8 ° C or above 24 ° C.
The best time of year to visit Coihaique and warm weather activities is from early January to late February.
---
How to get
Santiago-Puerto Montt: By land and by air.
Puerto Montt-Coihaque: By land via the Coihaque Alto road from Argentina.
Puerto Montt-Puerto Chacabuco: waterway.
Puerto Chacabuco-Coihaque: by land.
Puerto Montt-Balmaceda: by air.
Balmaceda-Coihaque: by land.
Chaitén-Coihaque: by land by Camino Austral.
---
Main tourist points
Traditional and modern architecture.
On the west side of the Simpson River is the Piedra del Indio, a rock with a human profile. The Cinchao, Divisadero and Mackay hills surround it, and the Coyhaique and Simpson rivers cross it.
Visit the craft fair at Coyhaique Arms Square.
Activities:
Hiking, trekking, biking, horseback riding, fly fishing, kayaking, picnic, flora and fauna contemplation, photography.
---
Presentation
Coihaque is a town and commune of Chile. With the natural advantages of being in the south of the country, Coyhaique is located on the east side of the Andes and has become one of the most important cities in the area. It has several tourist and natural attractions.
Ideal destination if what you are looking for is to take your senses to the extreme and connect with your wild side.
---
Other tourist destinations in:

Chile
---
Other world tourist destinations
---
City destinations and weekend getaways
---
Why to book with BOOK HOTEL ALGARVE
The best prices
Our partnerships with the world´s largest operators offer research on the best market prices.
More options
At Rotas Turisticos you can book the hotel, buy the air ticket, book the transfer from the airport to the hotel and vice versa, book the local excursions, rent the car, take travel insurance and consult the places to visit and where to go.
Holiday Tips & Destinations
Hundreds of holiday destinations with all the options that allow you to easily choose the destination that best suits your dream vacation.
---
---